DEFINITION:
Small Building
A well insulated structure with big windows; designed to catch the sun, hold heat, & provide shelter, accomodation, space for creativity or work.
Small Buildings usually have floors as large as 30 square metres & can be be as small as you want to make them.
In New Zealand, they can be constructed under Schedule 1 of the Building Code – as work that does not require a building consent.
Construction
Something we want to share is, the knowledge of how to construct small buildings using standards that the government approves of. Our challenge is to find ways to make living affordable, approachable, & truly sustainable.

The above pictures show piling; while is a process that can be done using H5 tanalised posts to permanently fix a building to the land. With piles, there should be two 'anchor piles' – these are 5 inch posts or thicker which go 900mm into the ground. They provide stability for a building. The other piles can be as little as 300mm deep, but it is advised to go deeper wherever possible.

There is far too much legislation & control in the building industry. As a result, most either go deeply into debt to 'own a home' or rent. Lots of people have substituted long-term building solutions for homes on wheels. Houses on wheels are awesome – but what we want to do here is establish security for people; & show them that there are ways to have your own place without debt! Even if they are small.
The pictures & videos below aim to show that small buildings can be established & anchored to the ground. They can be permanent under Schedule One of the New Zealand Building Code.
USEFUL PDF DOCUMENT: Building work that does not require a building consent

Floors can be constructed from H1 or H3 tanalised 145x45mm beams, or using different thicknesses of wood, steel framing, or prefabricated panels.
Floor Construction Videos
RECOMMENDED BOOK: House building guide (3rd edition)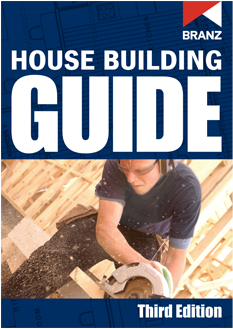 This book is incredibly well illustrated & detailed. It is almost essential to have one of these handy on all building projects. It is a good idea to borrow a copy from your local public library, or buy it!
Do as much research as you can, gather the bits you need, then get into it.
Once you have a floor down, you are ready to build & erect walls. Walls under the NZ3604 timber framed building standards should have a top plate & bottom plate, & the areas where windows & doors go should have beams over top. There should also be steel brackets installed on vulnerable areas; so that walls cannot come apart in extreme weather.
It is not hard to stand a small building up. You need to take great care to make sure that all of your wall lengths & heights are cut correctly before standing the building up.

Once a building has been stood up, it will need to be 'wrapped'. Wrapping is a waterproofing layer that goes around the walls. Then a 'cavity' is added (which is a timber or plastic spacing that is attached to the wall; so that moisture can escape any area of a building when it gets in behind the cladding. Cladding is the exterior surface of the building..
When a building is wrapped, it then needs window & door areas to be cut out & sealed using special plastic barriers & window sealing tape, or other approved technology.
It is possible to use timber framing techniques to build with other existing structures too; such as shipping containers. There are other methods as well which you can learn to embrace.
For example: You can build a house using the techniques associated with pole barns.

Barn buildings can be lined & finished as dwellings – in ways approved of by Council/government.
Some barn buildings don't need consent.
Email us to discuss your ideas:
.
There are all kinds of possibilities
Start by believing
Figure out what you really want; deep inside your heart
Visualise the possibilities
Disregard traditional thinking
Investigate & plan your ideas
Talk to knowledgable people
Ask for advice on how things can be done
Then begin to create your idea
If you want help, reach out to others
WEB LINK:  About the Founder of this Resource